If your hotel seating needs a refresh, but you don't want to buy brand new, reupholstery could be the ideal solution. It's cost-effective, better for the environment, and turns tired, outdated furniture into something fresh and modern. HSI offers a free site survey and advice regarding the reupholster and repair of your existing seating. We are based in Berkshire, near junction 11 of the M4, and provide reupholstery services throughout London and the South East.
Find out more about hotel chair reupholstery here.
---
Our own reupholstery team
Our re-upholstery services are truly transformational, and our highly skilled in-house team reupholster literally thousands of chairs yearly. All work is completed in-house at our workshops in Reading, Berkshire and is fully guaranteed. With over 30 years' experience, we have completed work for hundreds of satisfied hotel clients.  Take a look at our before and after gallery.
Got a question about renovation? Have a look at our FAQs.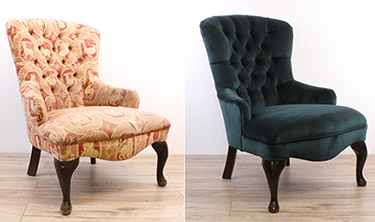 Transformational results
We work with leading hospitality fabric manufacturers such as Panaz, Sekers, Sunbury Designs and Skopos. We work to the very highest standards and the results are exceptional.
We are proud to provide reupholstery services to some of Britain's best loved hotel brands. View our testimonials to find out what our customers say.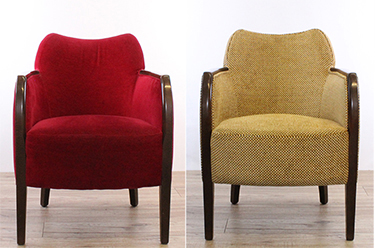 French polishing
Our experienced French polishers can complete work on-site at your hotel or here in our workshop. We use traditional methods and also use modern two pack liquors for more durability in heavy traffic areas.
Find out more about French polishing.
---
Furniture repairs
We hold many common chair components in stock. Here are some examples of the repairs we regularly complete on hotel furniture:
Repair frames
Replace internal springs
Fit new padding
French polish worn chair arms
Replace feet on chairs or sofas
Refill or replace cushion infills
Check or replace castors: Nylon, Antistatic, Soft Edge & Brass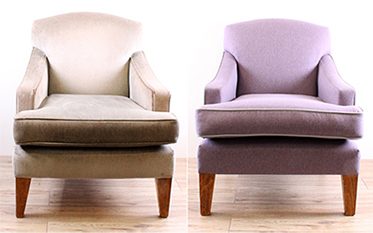 Bespoke furniture
HSI supply furniture to order. Our cabinet makers and frame makers can manufacture item to order or to match, and we have completed numerous commissions for many clients. Click here to find out more.
---
For a free site survey or to find out more about our reupholstery services, call us on 0118 9883009 or email sales@hsifurniture.co.uk.