Here is a selection of fabrics that we've used on bespoke hotel seating and reupholstery projects. If you'd like to request any upholstery fabric samples, please get in touch as we'd be happy to help.
Skopos – Mau Loa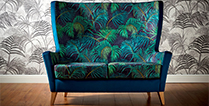 Printed on a choice of base-cloths, these designs offer an uplifting boutique feel to contract interiors. Inspired by the relaxing pace of Hawaiian life, Mau Loa (meaning 'forever') conveys a tranquil, exotic paradise through exquisite illustration, hand painting and mixed media. View the collection.
---
Panaz – Patternistas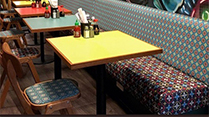 This distinctive and exciting upholstery fabric, the result of the collaboration "Patternistas for Panaz", has won the Mixology 18 Surface of the Year Award. The vibrant collection was praised for its vivid use of colour and its warm, retro-inspired pattern.  View the collection.
---
Osbourne & Little – Basie

This vibrant, zigzag patterned velvet creates a sophisticated feel, especially when married with an additional fabric to create two tone interest.  For an example, visit our reupholstery gallery.
---
Today Interiors – Textures
We recently re-upholstered a collection of hotel bedroom chairs in this fabric and were so impressed by its light reflecting properties. It really creates a sense of glamour! Choose from seven fabric designs which include a chenille basket weave, pinstripes on a contrasting marble ground, and a lustrous velvet jute effect.
---
Sunbury Design – Sunhide Faux Leather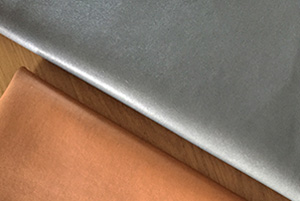 Sunhide is a luxury faux leather which is suitable for contract and hospitality use. The subtle two tone surface effect gives a unique depth of quality, close to a high end aniline leather but with the practicality and performance of a coated PVC fabric.  View the collection.
---
Panaz – Calroust
These contemporary tartan checks are very on-trend for upholstery with an inviting soft touch. Both distinct and subtle, each design is interpreted in classic and contemporary colours. View the collection.
---
Sunbury Design – Carnaby Velvets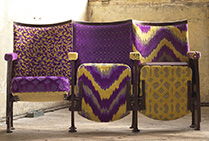 Carnaby Velvets certainly make a statement. Bold and strong, the dramatic colour combinations excite the eye with a sense of being fun, fresh and playful.  View the collection.
---
Sunbury Design – Apex Aquaclean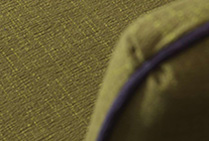 Apex Aquaclean is a deep, soft chenille quality with contemporary two tone effect to give a laidback casual elegance. Presented in 37 wide ranging colours, Apex incorporates Aquaclean technology, allowing stains to be removed by simply cleaning with water.  View the collection.
---
Panaz – Soho
Upbeat informal stripes in exuberant colour combinations complemented by a soft textural plain that extends to a gentler colour palette. View the collection.