Re-upholstery has always been a popular choice for the hotel and leisure industry who invest in quality furniture which structurally may outperform the fabric and foam.  Our highly skilled craftsmen reupholster in combination with any French Polishing required, essentially allowing us to create new furniture from old.  In recent projects we have observed the following hospitality fabric trends:
Deep buttoning
Deep buttoning creates a luxurious and timeless sense of style and adds to the personality and presence of a piece of furniture. This type of upholstery technique if often seen on Chesterfields.  We reupholstered the armchair below in Nina Campbell Deep Green Velvet.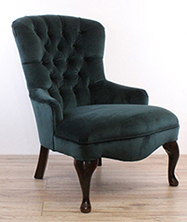 Stud work
Stud work provides definition and with a vast array of studs to choose from there are numerous options for both modern and traditional chairs.  We reupholstered these tub chairs in faux leather and used antique brass studs to complete the renovation.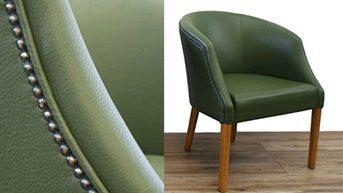 Faux Leathers
Faux leathers make an inexpensive replacement to real leather and are popular with our hotel clients due to their high wear rates, cleanability and durability. The following beautifully textured ranges from Panaz are popular for hotel and leisure applications.
Panaz Brookland – a distinguished texture in a classic colour palette. This practical yet luxurious upholstery conveys an elegant and refined look. Waterproof, antimicrobial, stain resistant and able to withstand a high level of abrasion. Perfect for hospitality use.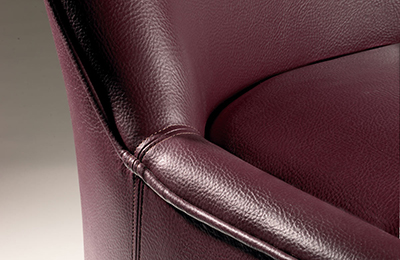 Panaz Aston – Enduring in its popularity, smart brights enhance an inspiring colour palette. A design classic to define or accent any interior.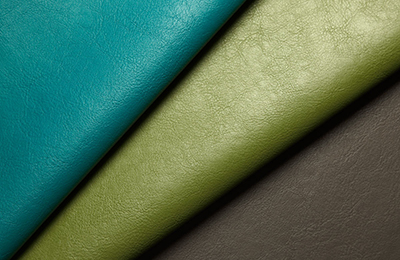 Natural fabrics – Hemp
Hemp has a unique texture created from a heady mix of natures cleverest renewables.  The Hemp Plus range from Camira is a wool and hemp blend of naturally inspired shades with a soft handle, inherent flame retardancy and an exceptional eco story.