When a guest enters a hotel room for the first time, one of the very first things they'll notice is the bed. It's therefore vitally important that your headboard is stylish, luxurious and suited to the design of the room. But with so many fabrics, colours and design options available, it can be tricky to know what to choose. Below are a few questions to ask yourself which should help you narrow down the possibilities.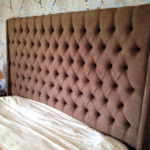 Does the headboard need to be wall mounted or bed mounted?
What about the borders – do you want them to be plain, piped and bordered, or piped and rouched?
Do you want deep buttoning on your headboard, or a smooth finish?
Do you want a fabric or wood finish?
How durable does the fabric need to be?
Think about the rest of the room – where are the lights and switches going, and how will the headboard fit with them?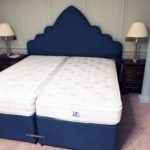 We are happy to provide advice – free of charge – on design options and functionality. Once you've chosen your design, your bespoke headboards will be manufactured and upholstered by our experienced team in our Reading workshop. We'll then deliver and install them for free (T&C apply). To find out more about our bespoke headboard creation, click here or give us a call on 0118 9883009.